Rooms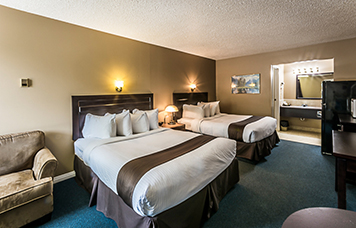 Price is based on 2 people.Maximum 4 People (Including Children)
2 Queen Beds
Microwave
Full Size Fridge
Satellite TV
Air-Conditioning
Free Wi-fi
Book now
Price is based on 2 people.Maximum 4 People (Including Children)
1 Queen Bed
Kitchen, Stove
Free Wi-fi
Satellite TV
Air-Conditioning
Floor Heating
Book now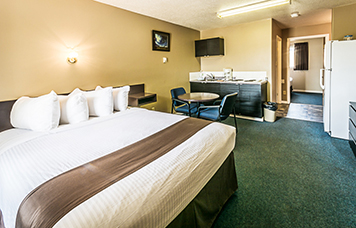 Price is based on 2 people.Maximum 4 People (Including Children)
2 Queen Beds
Kitchen, Stove
Free Wi-fi
Satellite TV
Air-Conditioning
Floor Heating
Book now
* 1. Additional charge 10.00 per person if you have more than 2.
2. Reservation request doesn't mean confirmation. will contact you when you request.
What Other Visitors Experienced
The staff were welcoming and the property must have been recently renovated as it was very nice. Sundre isn't a big place so it was a pleasant surprise to find such a good property.
Carla
The new owners were friendly and could not do enough to make our stay comfortable. They are working very to upgrade the rooms and ours was very clean and comfortable. Would definitely stay here again.
Michael
Large room, nice big fridge, excellent wifi, very clean, super sweet hosts, this could be a traveler's version of motel heaven. Bonus surprise, free hot breakfast with eggs ham AND sausage, plus muffins, waffles etc. Better than most big chain hotels. Price is very reasonable, if driving through Alberta- go out of your way to stay here, not far from the big highways.
Livingdreamsenterprises
Great place! Would stay there again.
Terry